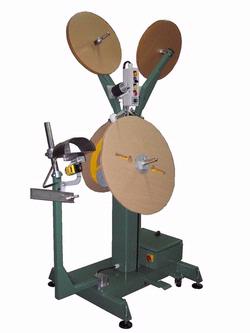 Adjustable tilting angle allows normal vertical winding as well as angular winding to suit all types of stamped products especially those that are very sensitive to handle.

Very suitable for LED and connector stamped parts. Those with narrow width and delicate forming also found it useful to apply. With the adjustable magnetic tensioning device, controlling the wrapping tension is a breeze. No more worry for inconsistency winding tension. Installing an option material tensioning device makes it more versatile in handling all kinds of stamped parts.

Single strip winding with 2 reels, one running while the other stand-by. Safe down-time changing the reels. It comes with interlayer paper feature and paper tear monitoring. The speed is also automatically controlled via contact-less sensor.
Features
Contact-less loop control via infra-red sensor
Magnetic Paper Tensioning device with paper tear monitoring
Forward and Reverse rotation
Forward and Reverse rotation
Tilt-able angular winding
Speed regulation
Option
Part counting feature
Material tensioning devices (-RB)
Winding without interlayer paper
Other reel size and width on request
Technical Data
| | |
| --- | --- |
| Model | DST 812 |
| Max Reel OD. | 800 mm |
| Max strip width | 70 mm |
| Max load/ reel | 30 kg |
| Winding speed | 0 - 30 rpm |
| No. of strip | single |
| No. of reel | 2 |
| Voltage | single phase 200/220v 50/60hz |