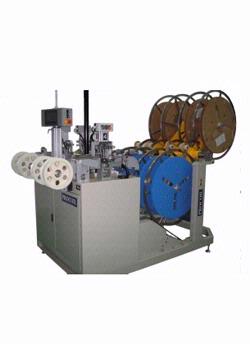 Designed specially for reel to reel plating line. The machine can take up to 4 strips at the same time. All 4 fold has its own independent controls which means the machine can also be use for single, double or triple strip operation. At any times the completed reels can be unload while the process machine is still running.

The modular design are best for customize requirements which either can be built for single fold or multiple folds construction. Best for operation that required fast reel change and also solve the problems when more than one line needs to be joint at the same time.

The joining of the stamped strips and reel change are fully automatic. There is no need to stop the process machine. The joint can either be done by RIVET or SPOT WELDER. Come with optional ACCUMULATOR.
Features
Loop control
Motorized de-reeling
Automatic join at pitch length
Automatic reel change
Joint confirmation feature
Interlayer Paper take-up
Forward/ Reverse rotation
Joint by Rivet or Spot Welder
Speed regulation
Option
Part counting feature
Accumulator
Other reel size and width on request
Technical Data
| | |
| --- | --- |
| Model | MDC 812 MDC 824 MDC 836 MDC 848 |
| Max Reel OD. | 800 mm |
| Max strip width | 50 mm |
| Max load/ reel | 30 kg |
| Winding speed | 0 - 20 m/min |
| No. of strip | 1 2 3 4 |
| No. of reel | 2 4 6 8 |
| Air supply | 6 bar |
| Voltage | 3 phase 200/220v 50/60hz |