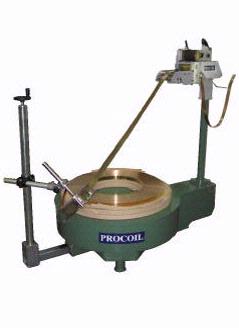 No more 'Bounce' effect when associated with press feeding which could cause stress and crimp materials as well as premature wear on tooling. The design eliminates the use of dancer roller which commonly use in horizontal de-coiling.
Turntable speed is automatically controlled to provide a distortion-free flow of stock and accommodate the changing coil diameter. Contact-less loop control virtually enhances the most delicate strip to be stamped.
Easy set-able wear-free tension clutch provides natural stock flow with just the right amount of back loop tension for different material gauges. Eliminates all counter-balance adjustments which varies from operators to operators.
Features
No 'Bounce' effect
Full stack height of material loading
Speed monitoring via contact-less sensor
High constant torque at very low speed even at maximum load
Back loop tension control
Forward/ Reverse rotation selectable
Over-pull limit protection
Power-Off interlock protection
Speed gain control adjustment
Easy operation
Best for soft and delicate strips
Option
Higher load and diameter on request
Paper Winder for collection of interlayer paper
With Straightener
Other voltage
Technical Data
| | |
| --- | --- |
| Model | PLS 920 PLS 1200 |
| Table diameter | 920 mm 1200 mm |
| Table speed | 0 - 40 rpm 0 - 28 rpm |
| Max load | 1000 kg 2000 kg |
| Strip thickness | 0.1 - 0.6 mm |
| Strip width max | 70 mm |
| Voltage | Single phase 200/220v 50/60hz |